SEINSA, winner of the II Arizmendiarrieta Saria Award for the Inclusive Participatory Business Model in Navarra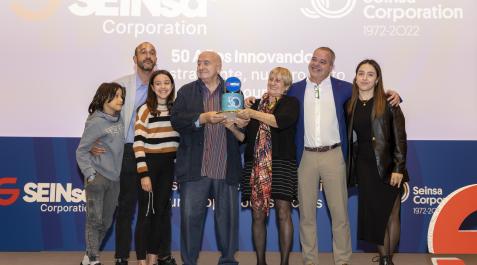 03 / 05 / 2022
SEINSA, winner of the II Arizmendiarrieta Saria Award for the Inclusive Participatory Business Model in Navarra
SEINSA, winner of the II Arizmendiarrieta Saria Award for the Inclusive Participatory Business Model in Navarra
SEINSA Corporation has been the winner of the II Arizmendiarrieta Saria Award in Navarra, which recognises the application of the Participatory Inclusive Business Model in the industrial and services sector in the Navarra
The award is organised by the Arizmendiarrieta Foundation, together with the Department of Economic and Business Development of the Government of Navarre, with the collaboration of the Industrial Foundation of Navarre, the Public University of Navarre, the University of Navarre and the Chamber of Commerce of Navarre.
The aim is to recognise companies that have stood out for the application of the values and management practices recommended in the Navarrese Inclusive Participatory Model for companies, based on a culture of cooperation and concern for people in the company as a key to improving its competitiveness.
In the professional evaluation carried out by the Navarre Foundation for Excellence, SEINSA Corporation, which has 300 employees in its plants in Navarre and India, has distinguished itself for its internal communication systems, its concern for the training of people in the company and its remuneration system linked to the company's results. It is also worth highlighting its special vigilance to ensure equal opportunities for men and women at its plant in India.
The Jury, appointed by the organising bodies, was made up of Izaskun Goñi, Director General of Business Policy, International Projection and Employment of the Government of Navarra; Javier Taberna, President of the Chamber of Commerce of Navarra; Félix Taberna, Advisor to the President of the Government of Navarra; Pilar Irigoien, Director General of Sodena; Francisco Esparza, President of ADEFAN; Ana Ursúa, Director General of AIN; Elena Alemán, Director General of the Industrial Foundation; José Aracama, President of the Institución Futuro; Iñaki Vélaz, Director of the Humanism and Business Institute of the University of Navarra; Susana Aulestiarte, Manager of the ISSA School of Management of the University of Navarra; Martín Larraza, Vice Rector of Economics, Planning and Strategy of the Public University of Navarra and Javier Vidorreta, President of the Social Council of the UPNA.
Related news
SEINSA Corporation team wishes you Merry Christmas and a Happy New Year 2023 in the following video:
Paul Schuck is a renowned professional with over 30-year experience in the industry and with a proven expertise…